The 2023 Sidebar Program took place on July 11, 2023 at the beautiful and historic Hawaii Supreme Court Courtroom. Nearly 60 summer clerks, interns and young lawyers attended the program, a record-setting number.
This year's distinguished panel, moderated by Hawaii Supreme Court Chief Justice Mark Recktenwald, included:
Hon. Jill A. Otake, District Judge, U.S. District Court for the District of Hawaii,
Hon. Lisa M. Ginoza, Chief Judge, Hawaii Intermediate Court of Appeals,
Hon. R. Mark Browning, Chief Judge, First Circuit Court,
Hon. Gary W. B. Chang, Judge, First Circuit Court, and
Hon. Karin L. Holma, Judge, First Circuit District Court.
The panel and CJ Recktenwald offered keen and pointed insights, and the attendees were able to participate in real-time via "clickers" to share their thoughts as to how the hypothetical issues might best be addressed.
The panel discussion was followed by a reception where the attendees divided themselves into small groups and enjoyed unscripted time with the judges present, who talked about their career paths and experiences before the bench, as well as on the bench.
As was done in the past, all of those who registered for the program received a complimentary one-year membership in AJS, a $50 value.
Mahalo to the AJS Sidebar Committee (the Hon. Jeannette Castagnetti, the Hon. Todd Eddins, Calvert Chipchase, Carrie Okinaga, Hon. Dean Ochiai, and Jocelyn Chong) for putting on another excellent program!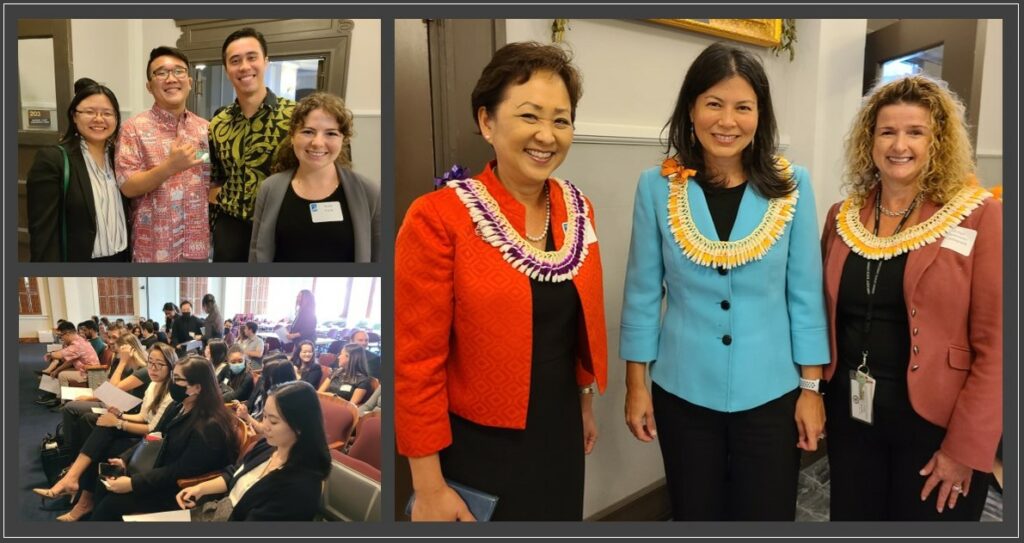 About the Sidebar Program
An important priority of the American Judicature Society is to ensure that the next generation of judicial leaders value their responsibility for perpetuating a fair judicial system and are well prepared to address any related institutional challenges into the future.
Each summer for almost the past 30 years, AJS has set aside a day dedicated to supporting young, aspiring lawyers. The annual Sidebar Program is open to summer associates from law firms, judicial and government agency law clerks and other new lawyers for a day of education and networking with each other and veteran professionals.